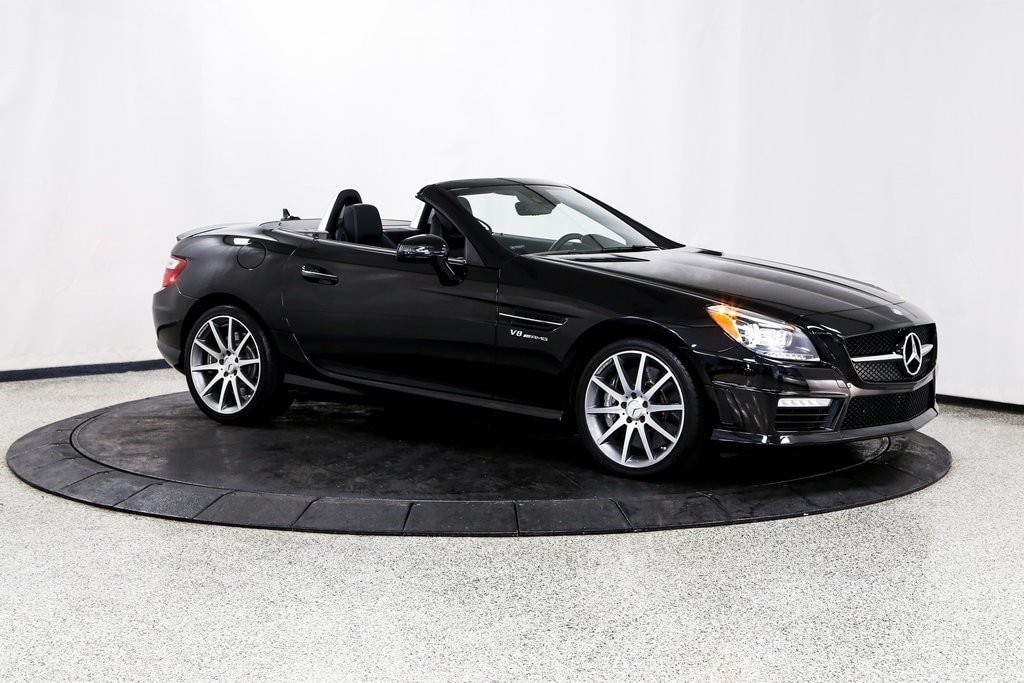 ---
Mercedes-Benz SLK55 AMG
The Baby Benz with All Show and Go
By: Anthony Fongaro | April 2016
To the untrained eye, the Mercedes-Benz SLK55 AMG just looks like a regular hard-top convertible. In fact, modern sports car owners may ignore you at the lights. But not for long. After you leave them in your dust and you pull into the nearest parking lot, you can see just why SLK55 AMG is more than just regular. Under the hood you'll see the SLK55 AMG's secret hand-built 5.5-liter V8 engine. So this Mercedes-Benz is a small car with a big motor. To see if this car is worth the $55,000 price, we took it for a little drive.
Four-hundred and fifteen. That's the amount of horsepower you will get from that big V8. Sixty miles an hour flashes by in around 4.1 seconds. That's faster than a Porsche Boxster S or a BMW sDrive35is, thanks to the 5.5-liter V8 and Mercedes' seven-speed automatic transmission. This particular car had the AMG Handling package which raises the top speed to 174 mph which is great since the standard 155 mph just doesn't do it justice. The AMD Handling package also includes a limited-slip differential, AMG suspension, and upgraded brake discs to keep the SLK on its toes around corners. The steering does feel quick when you're turning the wheel.
When you're inside the SLK55 AMG, you notice that you're in quite a comfortable car with soft and fully-adjustable seats. That said, some of the buttons feel a little cheap, especially the climate control dials. If you would like to change gears, I recommend the paddle shifters behind the steering wheel because you'll need to move the gear shifter sideways to access Tiptronic mode and change gears, which can be a bit awkward. You do get an analog clock on top of the navigation display which ups the classiness.
Of course, you're buying this car because it's a hard-top convertible. Top up, there is glass on the top of the SLK. Flip a switch and in a few seconds, you can fully hear that beautiful V8. That said the top folds into the trunk, so you may want to pack light if you plan on going anywhere with the wind in your hair.
The SLK55 AMG is a very special car, but there is something that it really isn't. A sports car. It feels more like a car you drive down to the beach to than to drive down to the track. That doesn't make this a bad car at all! It just means that the SLK55 AMG is a different beast compared to a Porsche Boxster S or a BMW sDrive35is. In terms of being a boulevard cruiser, the SLK55 AMG with its huge engine and beautiful interior gets top marks.